In a two-part interview in UK Construction Online, Adam Matthews, chair of the EU BIM Task Group, talks about the the European Common Network, the drive for BIM, and Brexit and BIM.
In Part I, Adam is asked How is the European Common Network developing?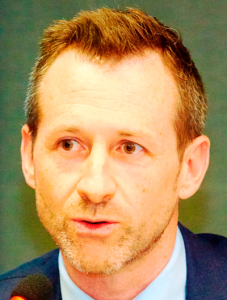 The UK with Norway started the group in late 2013 with 12 other European countries by holding a get-to-know-you session in Brussels.  Since it formed as the EU BIM Task Group, it has grown to over 20 European nations with support and co-funding from the European Commission.  The aim of the group is simple – create a common understanding of BIM in Europe and aim to spread common practice across public clients introducing BIM to public policy or public works. …
We have just completed a survey of European practices by public stakeholders and now starting to draft a guide for public procurers on BIM. This BIM handbook will make recommendations for good practice based on the current European experience.
Do you think the EU would ever have a BIM mandate?
Mandate is a strong word. Technically the UK BIM 'mandate' is policy encouragement to the UK's public construction client group to require the delivery of BIM information on centrally funded projects.  It is not easy to see how a single BIM mandate would be applied across Europe – however, do I see common approaches and requirements for BIM being adopted by European governments and public clients? Yes, absolutely.  And looking forward, I see these requirements aligning across Europe.
Over the next three to five years it is likely there will be a growing momentum of consistent BIM requirements in public tenders at national and public estate levels.  We are beginning to see this already. Clients are recognising it is not enough simply to request "It should be BIM" in public tenders: they want to specify standard digital information datasets at key project milestones.
What impact will Brexit have on closer collaboration with BIM in Europe?
In my view, the collaboration has been a European exercise, not just EU – it actually includes members of the EFTA (European Free Trade Association) such as Norway (a leading partner in the project) and Iceland.
With regards to Brexit, the EU BIM Task Group is a two year project until end of 2017 which would mean the UK will be a full EU member at that time. And the goal of the group is to align the European approach to introduction of BIM. Beyond Europe, there is recognition that BIM is a global language – construction will transform to a global 'digital construction' sector over the next five to ten years.  The group is collaborating to place the European sector to compete effectively in this market.
I would add that it is a European success – nations sharing approaches and implementation descriptions in order to agree a common performance level to describe what BIM is to encourage trade across borders.  It continues to be a positive and collaborative experience.
In Part II, Adam answers Where would you say the majority of countries are on their BIM journey?
This will be answered more fully in the report of the survey recently conducted. I wouldn't want to pre-empt its findings and conclusions. However, the group recognises that there is a full range from those just starting to explore what BIM means to a public stakeholder/client to those like Norway, UK and Netherlands that are implementing their programme with industry.
What is remarkable has been the journey since 2013, where we started the group with a just handful of nations with active programmes to now – with over 20 nations involved and the European Commission on-board. I think that speaks volumes about the recognition of the value proposition of BIM to the public sector.
… For me, one of the most impressive things about the EU BIM Task Group is that all nations are approaching with an open mind and prepared to debate different aspects of adoption and there is no sense at this time of protecting national positions to the detriment of harmonisation.
After all, BIM is just part of a broader digital transition across governments, across Europe and across the world.
http://www.eubim.eu/wp-content/uploads/2016/11/Adam-BIM-2-small-002.png
529
400
Paul Wilkinson
http://eubim.eu/wp-content/uploads/2016/01/eubim_logo.png
Paul Wilkinson
2016-10-11 10:07:25
2016-11-22 09:25:15
Matthews talks about EU BIM progress